Teenage woodworker Alex Harris's bandsaw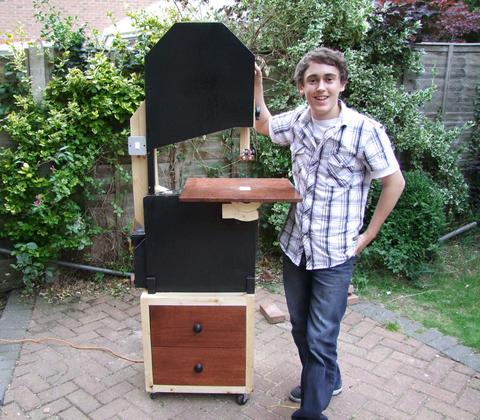 Alex Harris, also known as the Teen woodworker on YouTube built a 16" bandsaw from the plans.
Alex wrote:
"Hey Matthias,
Just finished the bandsaw and just wanted to send some pictures. It took a while to complete but well worth the work (it came out great painted black). I have fitted a 1hp motor and I'm looking forward to putting it through its paces.
Thanks for such a great bandsaw,
Alex"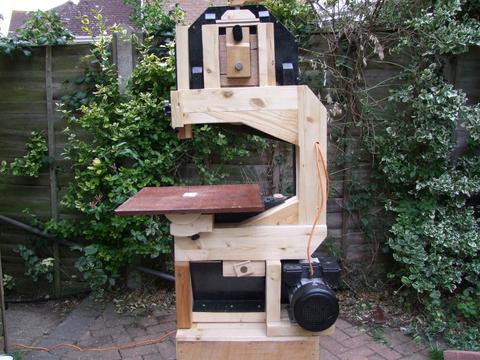 In a previous email, he mentioned:
I noticed that the youngest guy so far to finish this was 22 (or there abouts) and seeing as I am 16 (fifteen when I started) I thought it would show the level of detail your plans offer. Although I don't think just any 16 year old could build it!
Indeed, Alex is the youngest person to tackle this project that I'm aware of. It's certainly more involved than the typical project that a 16-year old would tackle in a high school woodworking class!
Update 2012: 15 year old Jack Cleveland has since built this bandsaw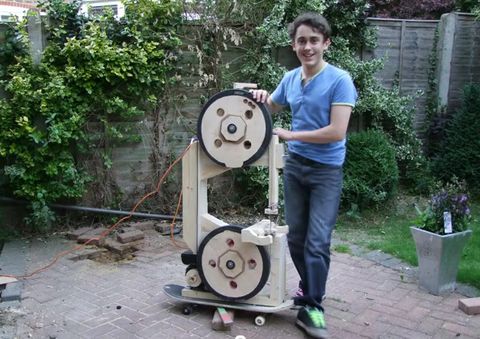 I would also guess that Alex is the only one to think of using a skateboard as a temporary mobile bandsaw stand. The world of skateboarding and woodworking (let alone bandsaw building) doesn't overlap much. Although I have to admit I cringed a bit when I saw that. Glad I'm not the only one with sometimes questionable safety practices!
My attitude on safety is that it's a personal choice and personal responsibility. I try not to encourage steps that I consider unsafe, but what you do is your responsibility.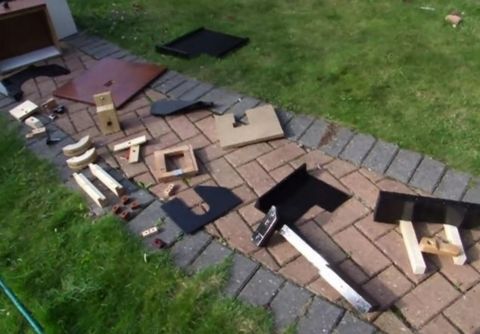 I really like this shot (grabbed from one of Alex's videos). There is a stage in most of my projects that looks much like this right after varnishing. It's perhaps the most satisfying stage in a project - to be ready to finally put it back together after applying the varnish or paint.
Alex has produced two videos about his experience building this bandsaw:
Also check out Alex's YouTube channel and website.
More reader built bandsaws on my woodworking website