Etienne's bandsaw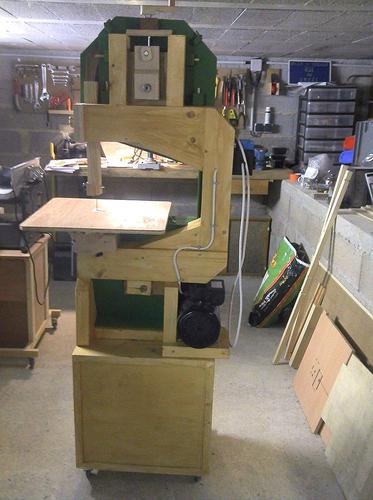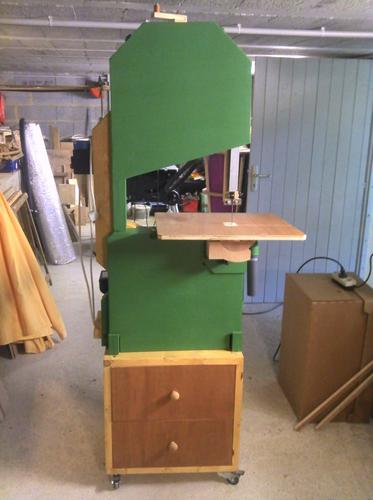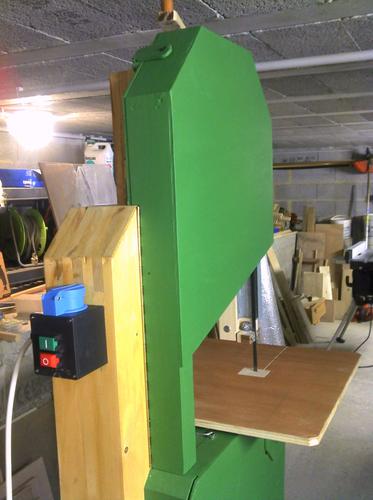 Etienne Horeau writes:

Dear Matthias,

I finally completed the band saw. It took me about 11 months, as I'm quite busy, and I cannot spend as much time as I would like in the shop. However, I had a great time building it. It made me do things I had never done before, and things I never thought I would be able to do. It was a bit tricky to adjust, as it tended to wobble a bit, but now it works really fine. What a satisfaction. Funny enough, I wanted to build my own band saw in order to save money on tools, as yours is equivalent to a very expensive one for a few hundreds Euros only. But in order to make it easier, do a proper work, and avoid bugging friends every time I had a piece to plane, I bought more tools... A good Metabo table saw, and a cheap Chinese planer-jointer. So I spent more money on tools than I had planned, but now I enjoy much more the time I spend in the shop. I'm also much more efficient. Definitely worth it.

I followed your plans as much as possible, but I had to make some changes :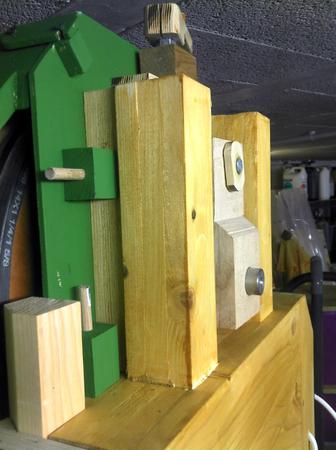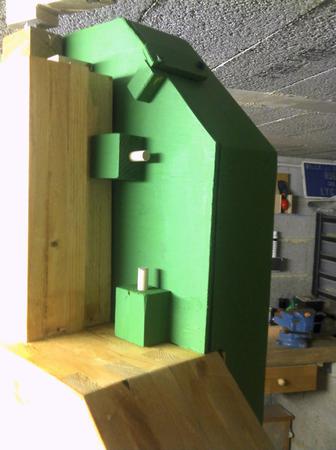 As you see on the pictures (not great quality, sorry about it), the ceiling of my shop is very low, so for the cover, I created an other system to fix the back cover (divided in two pieces, and hold with dowels in two directions), and the upper part of the front cover opens with a piano hinge.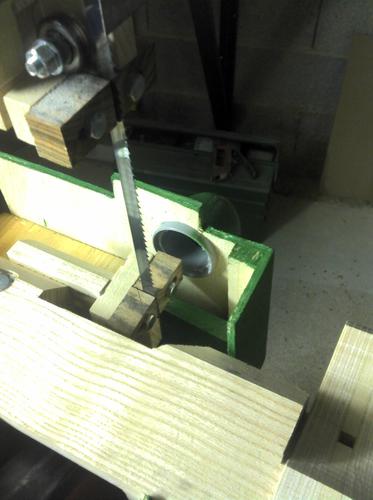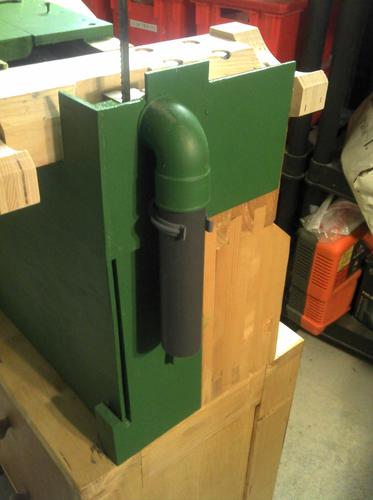 I also tried a system to connect the saw to my funky home made cyclone. It works ; only the biggest particles fall in the drawer. It is not very useful in itself, but the goal was to avoid the lower blade guide to get clogged with the very fine dust. It seems to work.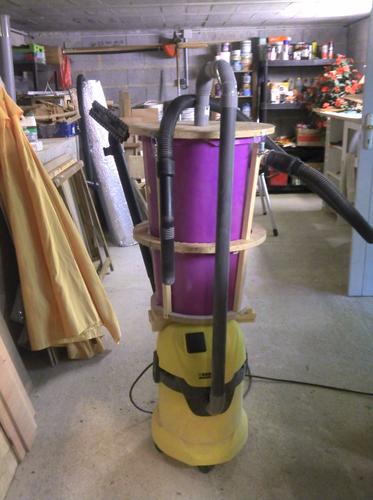 I had followed all your posts about dust collection. When I saw Jim Ryans's "square cyclone" I decided to make one with what I had. As you can see, mine is directly inspired by his. When I saw that even a square one would give such a good result that I thought that my purple trash bin would probably do the job.
Another thing that you cannot see on the pictures is the way I fixed the trunnions on the main beam. I did not use the dowel system, but my Festool domino. I replaced the five dowels by two 8mm dominos. As I had bought the machine a long time ago for a barrier project, and I like to use it, I thought it would be easier that way.
Thanks again for the plans, and the whole package in fact. The SketchUp plan was extremely useful. All the videos on the site also. Looking at some of the readers photos and videos was also helpful. My next project is the tilting router lift. I'm going to purchase the plans on your site very shortly. I know that I cannot go wrong with it. Thank you also for your weekly update of the site, there is always something to learn from your articles and videos.
With best wishes,
Etienne (from France)

See also:

Back to my Woodworking website