Manos Smith's bandsaw
Manos Smith writes:
Hello Matthias.
I send you some photos of my almost complete bandsaw based on your plans.
I still have to make a dedicated base and proper electric switch connections to be completed.

I have used 15mm shaft and paired 15mm inner diameter bearings because I had them before I started the project.

The frame was made from old pine door frames that I already had. I had to resaw it into 16mm lumber with a friend's 16 inch bandsaw.
The lumber's width was 11.5 cm instead of 12 cm as your plans suggests. I had no problem with this and I got an extra 1 cm on total resaw height capacity.

All hardwood came from old chairs that people throw out as garbage. Mainly it was beech. I had to glue some pieces to make bigger pieces. The top wheel mount block was made with laminated beech.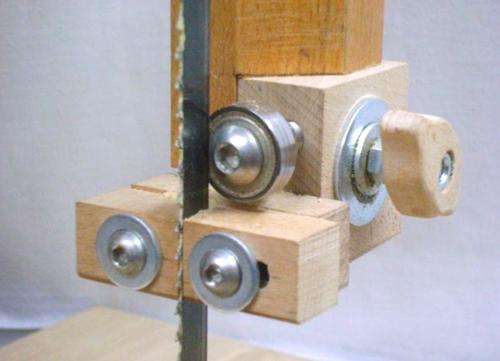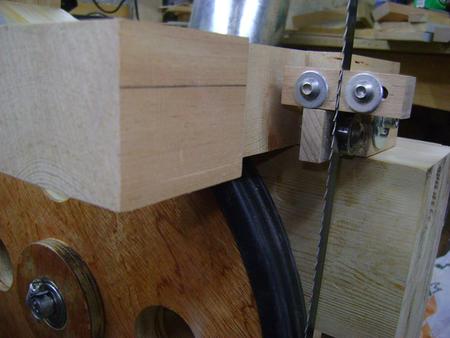 I made a temporary and smaller table during the construction. At the end I replaced it with a normal size table and added an aluminum L-profile with a wooden spacer at infeed side, on which the fence can slide and lock in place.
The enclosure was made from 6mm and 16mm MDF that I have collected from wood stores that throw out pieces they don't need.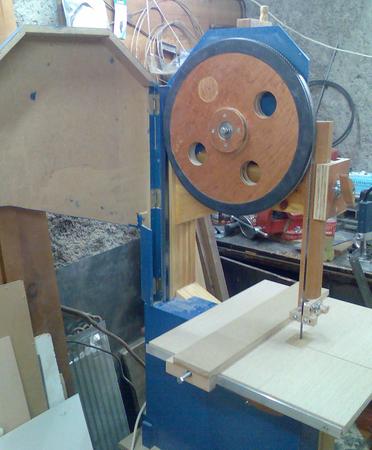 I made enclosures the way the plans suggest, but I didn't like the way the top enclosure works. So. As I hann't glued the parts but attached them with screws, I rip cut the left piece of enclosure in the middle, put three hinges and screwed to the frame to converted to open-able.
Matthias comments:
I used the same approach for my 14" bandsaw enclosure. The main drawback of this approach is that it interferes with mounting the switch left of the enclosure.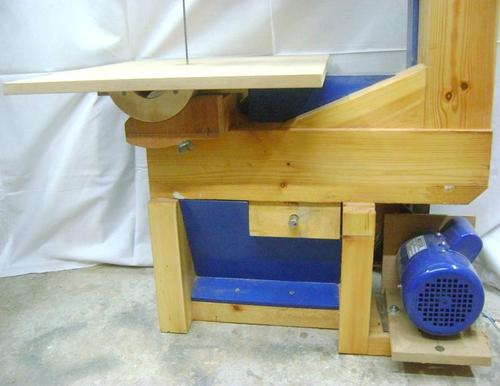 So. My bandsaw cost was almost nothing.
The 1/2 HP motor came from my old table bandsaw.
I had to buy nut, bolts, varnish, and paint.
After this I call it as recycled bandsaw !!!

The bandsaw operates very good and smooth. I use it every day, without any problem.
Thank you very much.

More reader built bandsaws and reader projects
More about bandsaws on my woodworking website.