Homemade table saw specifications
Overall dimensions (as per plans)

Height (without fence)
87 cm
34"
Table size
85 x 72 cm on mine.
make yours as big
as you can
33.5 x 28.5"
Weight (with saw)
32 kg (approx)
Top: 19 kg
Stand: 13 kg
70 lbs (approx)
Top: 41 lbs
Stand: 29 lbs

Maximum cut

Depth of cut (8 1/4" blade)
68 mm
2 5/8"
Depth of cut (7 1/4" blade)
55 mm
2 1/8"
Rip width
34 cm
13"
Tilting
Blade does not tilt

Circular saw

Type
I used a Makita circular saw, model 5007NB, but most circular saws in the $30-$200 price range can be used. Use a circular where the depth adjustment is achieved via hinging on the front, and a locking knob on the back.

Do not use cordless circular saws, track saws, or worm drive saws.

Power
Any power will do. Whatever speed the saw can cut as a handheld circular saw will be the same a it can cut installed in the table saw.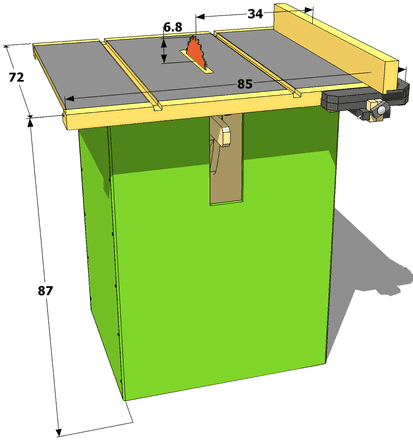 Dimensions shown in centimeters
Back to the table saw plans