Hessam Sane's slot mortiser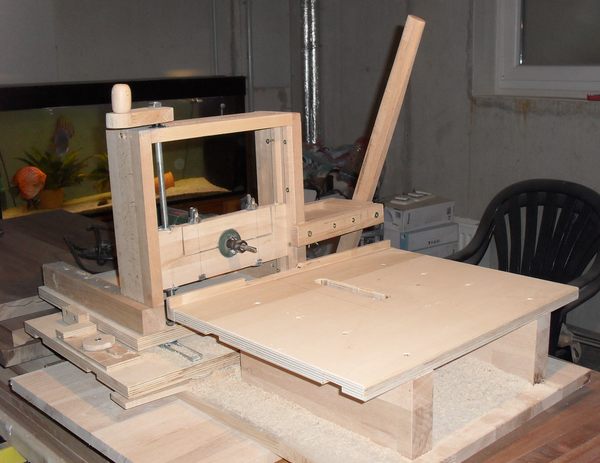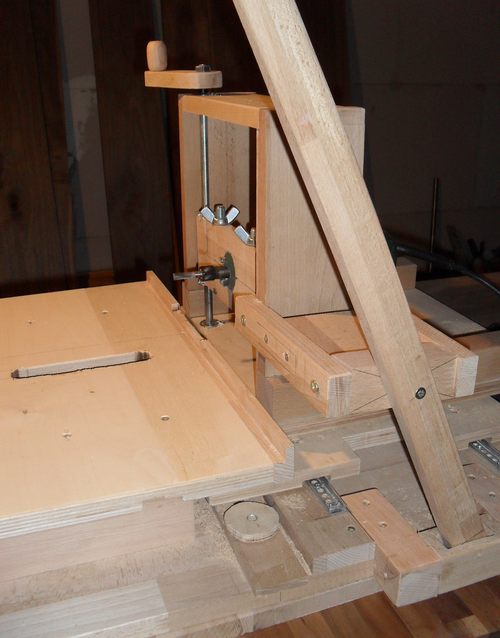 Hessam Sane, from Germany, built himself a slot mortiser based on my multi- slot mortising machine. He writes:
Hello Matthias,
First thanks a lot for your very instructive home page which I really enjoyed and have been getting so many ideas from it.
Actually I was looking for a long time for a small slot mortising machine. but the few machines which I found were heavy, big and expensive. So I stayed with my chisels.
Until I found by accident your home page and your plans for a slot mortising machine. I have to say, I was so excited, that I left home, went to the next DIY and tried to buy all items which I need to build the jigs. Some parts I have to order in internet and I am waiting impatiently for them."
We emailed back and forth a bit more, but the rest of the thread was in German, so there's no point in quoting it here verbatim.
Hessam really couldn't wait to build his machine. In the mean time, he wanted to avoid using PayPal and credit cards, but other options take much longer. So he just started building something approximately like my machine without the plans. So the topology of his machine is very similar to the original, but all the dimensions are different.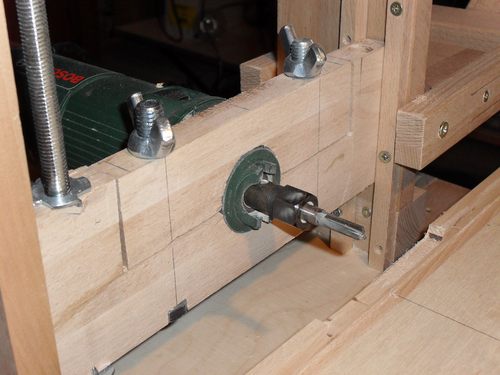 Hessam adapted the design to mount the type of router he obtained from his local building center. Its more of a laminate trimmer type router with an 8 mm collet. Fixed based routers of the sort that I used for my machine can be bought in Germany, but they are less common.
An interesting variation on the design is to use the threaded rod for both vertical positioning and guidance, instead of using a polished rod for guidance and a threaded rod for positioning. He put a T-nut on both sides of the piece of wood for guidance.
This design does require finding a very straight threaded rod (here in Canada, I find 3/8" threaded rods are rarely entirely straight). There's also the question of how much the space between the T-nut might change with seasonal shrinkage and expansion, which might cause the nuts to bind.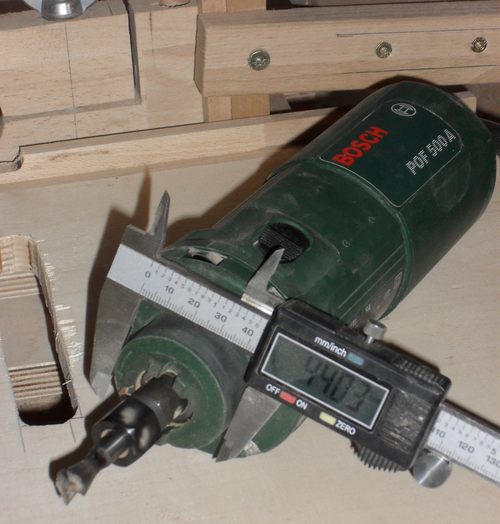 Hessam's router has an 8 mm collet. In Germany, standard router sizes are 6, 8, and 12 mm. I wish they had those sizes here in Canada. 8 mm would seem the perfect size when 1/4" is too thin and 1/2" is too heavy for a router collet.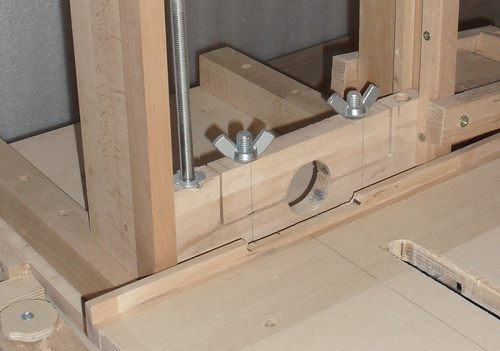 The router mount is just a piece of wood with a round cut out with a bandsaw, and two bolts and wing nuts to clamp the router in place.

See also: Shawn Haven's slot mortiser and Hugh Lyman's slot mortiser
More reader projects