King's Landing Sash & Door factory
King's landing is a living history museum in New Brunswick, depicting life in the 1800s and early 1900s. The site includes the "Charles B Roy Sash & Door Factory", with some neat turn-of-the-century machines.

I don't know much about it other than what I saw, so I don't know if there was ever a real sash & door factory by that name. But I always enjoy checking out some of these complicated old cast iron machines. With no regard for safety or dust collection, these machines have everything completely exposed so you can see how they work.
Below, a three-sided planer/molder. This can cut out just about any molding shape in one pass! I'd love to see one of these in operation, there must be wood chips flying in every direction!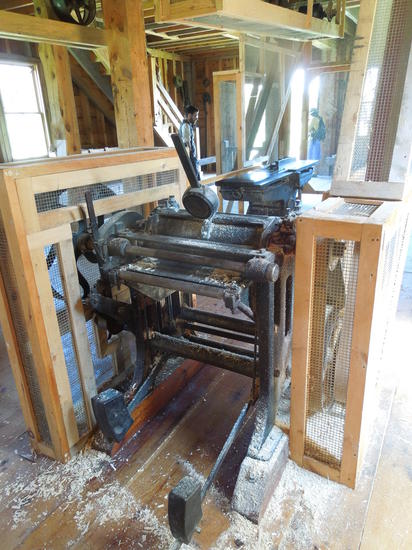 Also a big planer and a jointer. Given the guards around the belt and the shavings, these actually get used from time to time. They are powered by belts to overhead shafting. An old (not quite turn of the century) diesel engine powers the overhead shafting.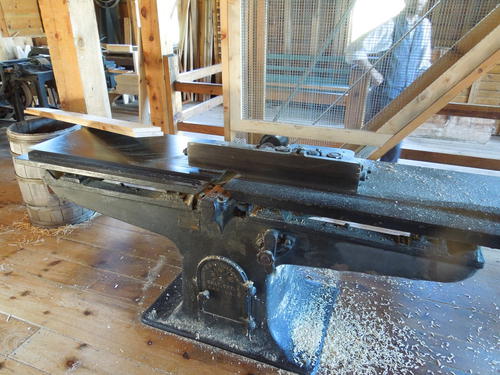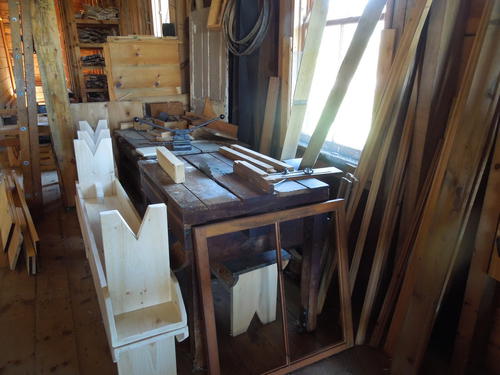 Also a wooden table saw, though this was almost off in a corner. Maybe table saws were not that important a part of a shop back then.
More equipment in the upper floor of the shop.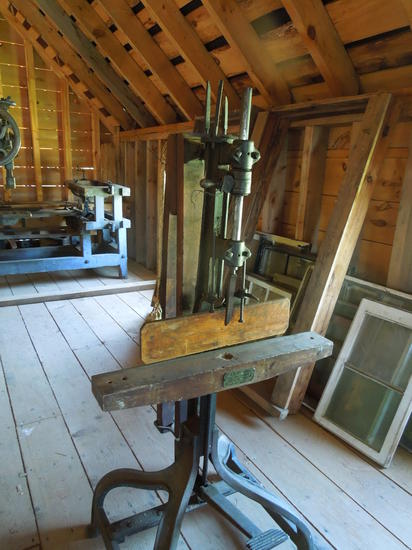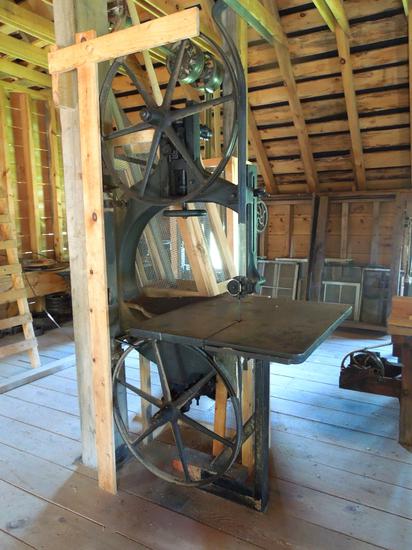 A foot powered mortiser (left). The chisel would be used to shave off wood from the edge of the mortise, gradually widening it.
At right, an old bandsaw.
Another cool machine: A tenon cutting machine. It has two sets of cutters for each side of the tenon. First, two cutters with a horizontal axis shave away the bulk of the material, then two cutters with a vertical axis clean up the cheeks.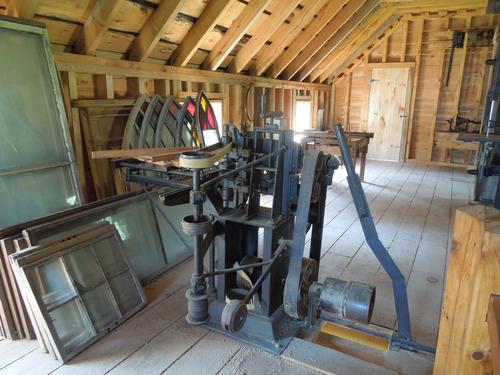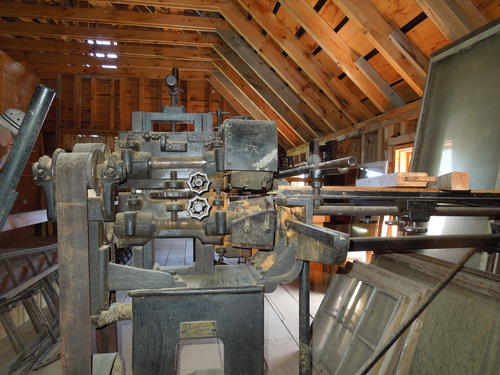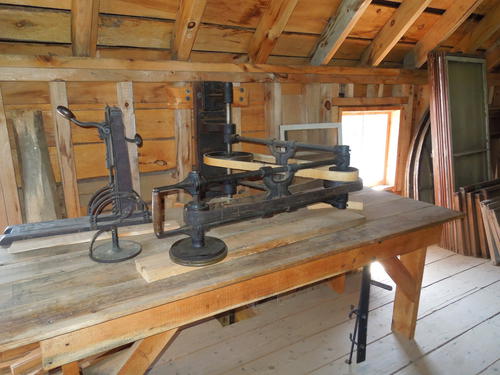 A sanding machine. I guess this would be used like people use orbital sanders today.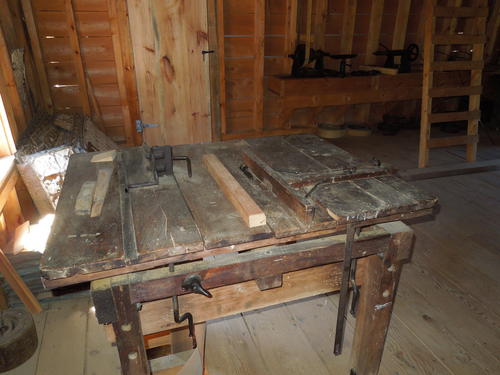 And another table saw like machine. The label said this was a dado cutting machine. It had a wide blade (about 10 mm wide) in it.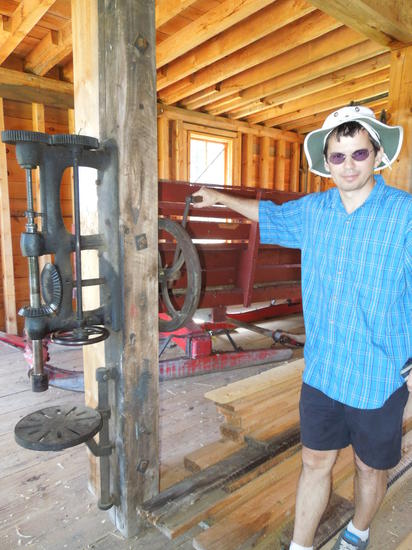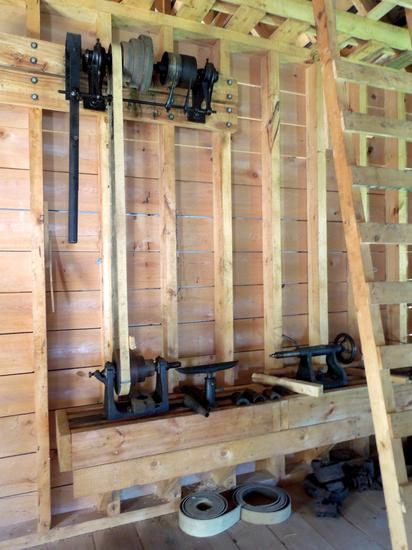 Left:
Me posing with a post drill. This one looks like it was meant for two man operation, given how the main crank is to the back and that there's no automatic feed mechanism.
The reason these old drills are called "post drills" is because with vigorous hand cranking, mounting it to a post of the building was the best way to ensure it stayed steady.

Right:
A lathe, also powered by flat bets from overhead shafting, though the actual belt connecting it to the line shafting is not there.

Overhead shafting. I'm sure all the guards around the belts would not something that would have been there in 1900.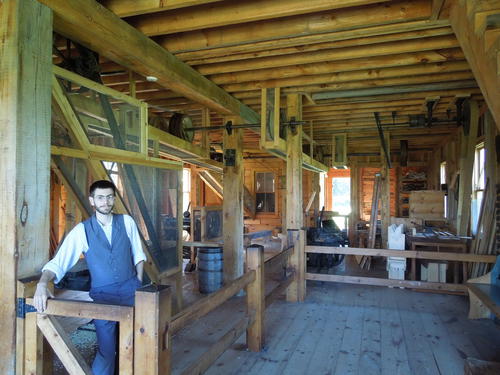 And it would probably also be historically inaccurate for a guy in the sash shop to still have all 10 fingers! :)
There was also another smaller wood shop on the site, this one had a treadle powered table saw, treadle powered lathe, and another foot operated mortising machine.
This one looked more like it gets used from time to time, at least when the guy working there isn't answering tourist questions. He had just left for lunch when we got there.

And another cool thing on the site: A blacksmith shop! The blacksmith was working on making a draw knife, starting with a raw chunk of metal, just shaping it by heating and beating it into shape.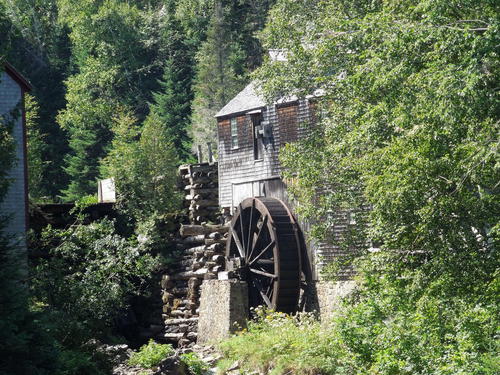 And no visit to King's landing is complete without the obligatory shot of the mill. This mill was built new in the 1970s as a fully functioning water powered lumber mill. Unfortunately, some storms in past years damaged the dam, rendering it unsafe, so that whole part of the site was off-limits to visitors.
See the official King's Landing website

See also: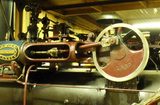 Ontario steam heritage museum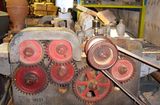 Woodworking machines
at the steam museum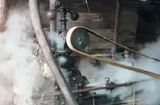 Asam brothers sawmill
Exploring the old Canbar factory