Luke's pantorouter
Luke Dicker, from Australia, writes:
Hi Matthias,
I am a high school woodwork teacher in Australia. I was shown your YouTube clips and I was in awe of your work and mind. When I saw your Pantorouter I knew I had to make one for myself. I purchased the plan and built it. The SketchUp drawings must have taken you a considerable amount of time and effort and I thank you for that as it made the project very easy to follow. If you look at some of my models (screws, dominos, biscuits etc) on SketchUp warehouse, you may feel free to use them in any way in your future plans.
As a school teacher there is less and less my students are allowed to do due to occupational health and safety every year. The main reason I love your Pantorouter is that students can operate it safely without their hands being remotely close to the router. I have made some modifications such as safety stop, safety guards, steel bushings and the ability to cut compound angles on a tenon. Students are not yet clear to use the pantorouter in my classroom as it needs to be assessed by an independent engineer which I am currently in the process of organizing. I believe many high schools in Australia desperately need a machine like the Pantorouter in their woodwork rooms. It will allow the students to have a greater sense of satisfaction and free up the teachers time to actually help the students, instead of simply cutting joins all lesson for them on tools they are not allowed to use.
Matthias comments:
What I found most intriguing is the dust guard at the front of his machine, so I asked to see some pictures of that arrangement: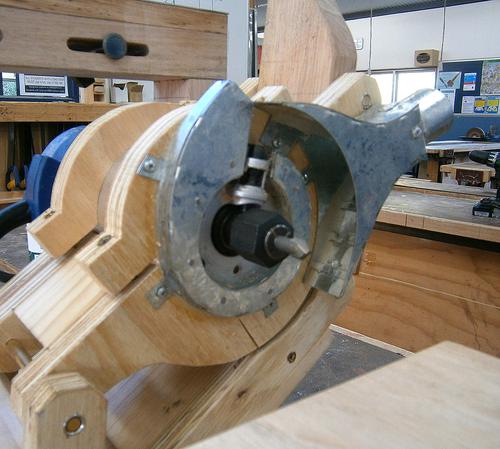 Router air redistributing duct and collection hood.
The duct directs air coming out of the router away towards the top.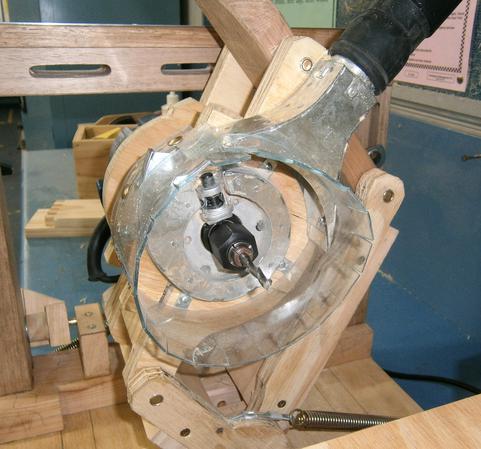 Dust extraction with clear vinyl guard air flow enhancer
Dust collection is always a weakness of the pantorouter. And with all the air that most routers blow out the front, capturing the dust becomes all the more difficult. Luke addressed this by making a fairly complex metal duct to deflect the out-coming air away. That way, the dust collector doesn't have to work against the air blowing out the front of the router.
Luke says about the dust collection:
"If you are doing a plunge cut mortise it captures 95% of the dust but with a tenon type cut its more like 60%. I cut pretty quick but the slower you cut the more it captures because the particles have less weight and momentum."

The extraction system drawings which I had laser cut because the fiddly nature of the peice would have been distorted if cut by hand. Cost me about $25 to get one cut. The holes are for rivets. I used a spot welder on each tab. Seal it with silocone around the joins and router.
You can dowload luke's cutout template for the duct in Sketchup:
Cutout template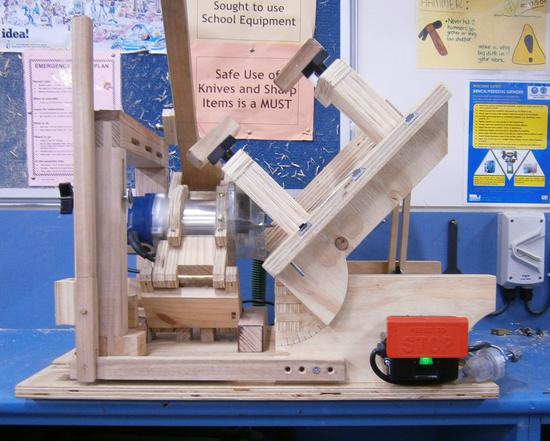 Showing table at maximum angle increments can be seen at pivot point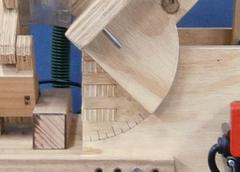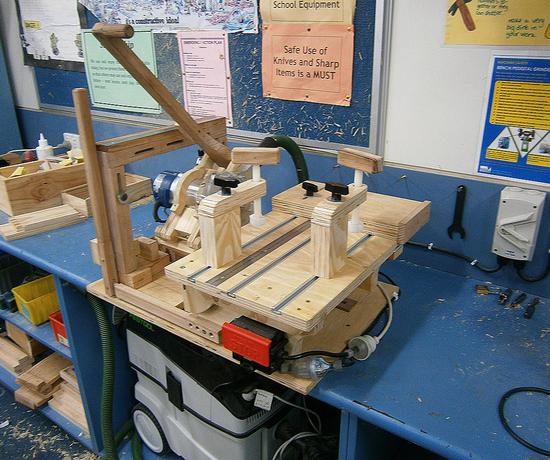 Two larger clamps offer greater clamping stability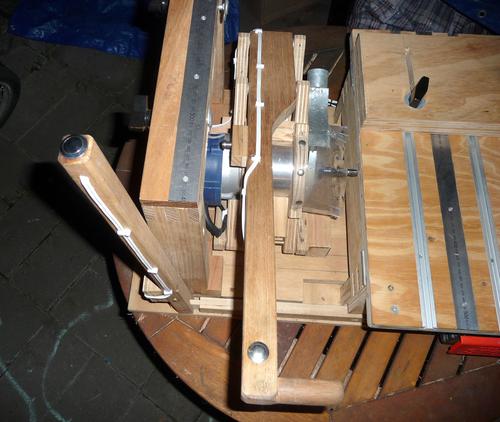 Two switches on the two handles must both be pressed to operate router.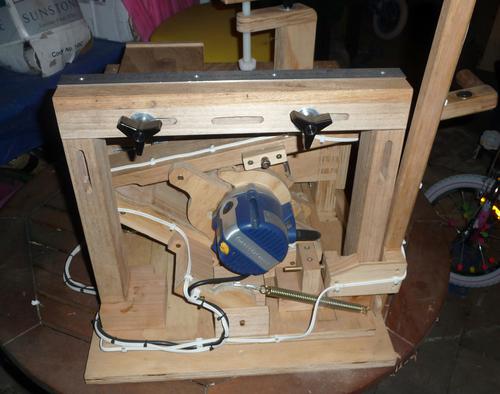 Wiring to switches is at 24v which controls a relay to turn on the router.


And finally, the videos:

Showing fence, angle adjustable fence and angle adjustable table

Dust collection, longer handle, metal bushings for pivots, safety switches

Box joints, dovetail joints, multiple mortise and tenon joints


See also:


Back to my woodworking website