Dejan Kovac's homemade bandsaw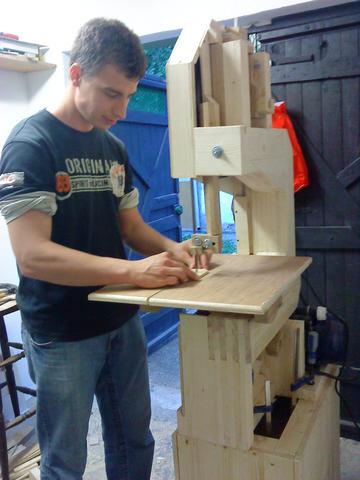 We have it pretty good in terms of woodworking supplies and information here in North America. So it was interesting to read about some of the challenges Dejan faced when he built his own bandsaw.
Dejan Kovac writes:
Hi Matthias
A while ago I purchased your bandsaw plans, and today I finally lacquered the last few pieces on it and can call it near complete. I'm 22 years old, studying computer engineering in Croatia, and some time ago I started woodworking in a one car garage in my spare time. This was my first real big project. As I still lack a lot of tools a shop ought to have, the jigsaw was my best friend for this project and I used it to saw the majority of the parts.
I've learned a lot of woodworking techniques on this build and even though I'm still pretty low on the woodworking learning curve I feel I've gained a lot experience, and a very capable tool. Having a stationary tool is simply in another class compared to owning hand power tools only. I've also gained a deeper comprehension and appreciation for the bandsaw mechanics, and mechanics in general. I guess you just can't buy or acquire this level of understanding what it takes to make a precise and well built machine through reading and theoretical knowledge alone. I admire your guts, to build your first bandsaw yourself and trust it not to fall apart or blow right in your face when you first turn it on, or try to push the limits of its cutting capabilities. I was, and still am a bit wary whenever I turn it on, but as I'm getting accustomed to its sounds, vibrations and general feel of it I'm getting more confident in it's abilities, design and build quality too.
The stand is in large part bolted together out of spruce boards, being careful to conceal the screws in the back and the bottom boards - so as not to be seen. At the time I made it I didn't have a router or a clamp long enough for that matter, so I wasn't able to use proper wood joints. I think the three drawer concept works better than a two drawer one, I don't really like too deep drawers and fishing things out of them. I still need to give your homemade handle building technique a try :)
The reason I went with two drawers instead of three on mine is that the sawdust just piles into a heap on the right side, so it won't spread around a shallow drawer very well. But I have really only ever filled the drawer when cutting up logs. But pulling the drawer out and slamming it back in rapidly helps to spread the sawdust.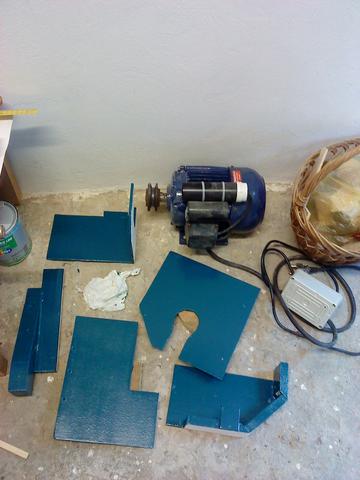 About the bandsaw fence, Dejan says:
I googled bandsaw fences and found this rather versatile design. The fence is a T-style one and can be simply adjusted for blade drift. There are also a few more configurations - for ripping narrow pieces and for resawing. I've decided to integrate a proper fence and a groove since I'll be using this tool not only as a bandsaw, but as a table saw and a miter saw as well.
In Canada and the US, we have the luxury of having good sources of woodworking supplies and much information available on the topic. So getting bandsaw blades is easy. Not so for Dejan:
I first ran the bandsaw when putting the auxiliary table on it, just after making the frame and the wheels. It cut an amazingly thin kerf, and I couldn't do even a slightest curve. I didn't realize it then, but the problem was the blade I bought wasn't sharpened and the teeth haven't been set so it kept binding until it fell off the wheels and rolled on the motor axle, breaking in two places. I'm not sure what it's trajectory was, but was probably lucky it hadn't struck me since it sliced the bottom tire and damaged the bottom wheel and the frame. You might be able see the damage on the bottom of the vertical beam on the frame, it's some 2mm deep. The incident left me a bit more cautious.
I noticed that in the pictures of the finished bandsaw, the blade did have a set to it, so I asked Dejan about that:
Yeah, that's a new blade and I set the teeth manually, using pliers. Over here it's almost impossible to buy a bandsaw blade, I don't know why that's so. Roaming the web I figured it's a common accessory, but not so. In the end I managed to find a single dealer, and not in my hometown. The blades are generic, the only thing you can choose is the width, there's no different tooth shapes, different materials, no such thing as a resawing blade or a low-tension blade. The one I bought is sold by meters, they do cut and weld it for you, but as it turns out do not sharpen and set the teeth. Only recently I found a company (or rather a man) that does that too.