Peter Passuello's bandsaw build
Peter Passuello sent me some links to his YouTube videos about building his bandsaw: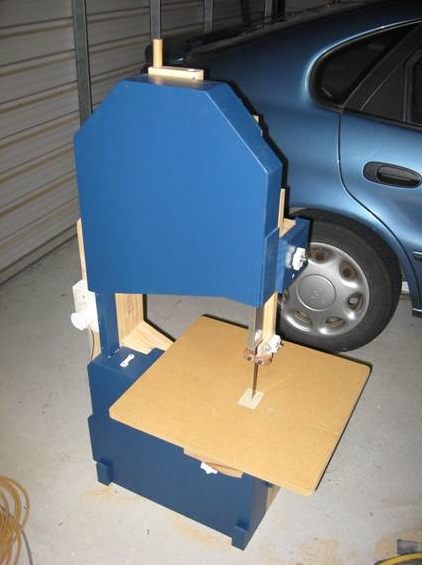 Hi,
Just wanted to say thanks for the great plans for your Bandsaw.
I have just finished mine after a couple of months and am very pleased with it.
I have yet to build a suitable base for it but that will be the easy job.
I include a photo of the finished machine and some links to a couple of YouTube videos I did while building if they are of any interest to you.
I am lucky in that I have a home made CNC machine and it was invaluable in the building of the Bandsaw.
It allowed me to quickly and accurately make the parts that I didn't otherwise have tools available for.
Flattening the wheels. If you skip along a little you will see the wheels being flattened on the CNC and being thinned down to 32mm thick. http://www.youtube.com/watch?v=MNdSqlq0v4c
Checking the wheels and bearings for true before turning.
As you can see they were pretty good straight off the CNC before I turned them. I had the advantage the CNC and align things up for me. http://www.youtube.com/watch?v=4mVv9HpQ0Cc
Once again thank you for the great project. I really enjoyed the build and I am watching with interest your latest Bandsaw build.
Cheers
Peter
New Zealand
Making the wheels
First run

Presenting the (almost finished) bandsaw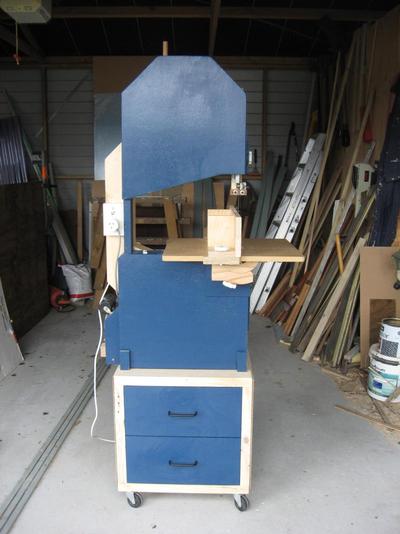 Thought I would send you a photo of the Bandsaw on it's new Base I built last weekend. It looks a lot better now it is on the stand than it did on the floor and is far easier to use.