A Popular Mechanics bandsaw design from 1974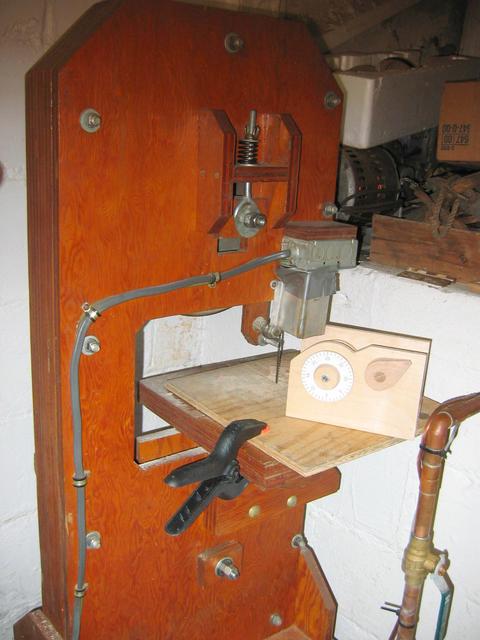 Daniel Pagel emailed me with some questions about building the combination lock and mentioned that he was cutting it on a homemade bandsaw:
"BTW, I am doing most of the curvy cuts using a wooden bandsaw that I built 40 years ago from plans found in Popular Mechanics (the plans can be found on the internet). Compared to your saw, mine is a hunk of junk, but I plan to fit a pair of blade guides of your design to help control the blade's meanderings. The worst part of the design is that the blades ride in the v-groove of two 12 inch metal pulleys, and when I use a larger blade, it can (and did) saw the rim off one of the pulleys. Second worst design flaw is that the axles are suspended from both front and back panels which makes changing blades difficult."
I had extensively researched homemade bandsaws on the web while writing about my own wooden bandsaws, so I knew which one he was referring to. I was curious about his and asked him to send me some pictures of it.


Daniel replied:
Here's the link to my bandsaw plans:
http://books.google.com/books?id=79QDAAAAMBAJ&lpg=PA155&ots=Urir0urQ49&dq=popular%20mechanics%20plywood%20bandsaw&pg=PA155#v=onepage&q=popular%20mechanics%20plywood%20bandsaw&f=true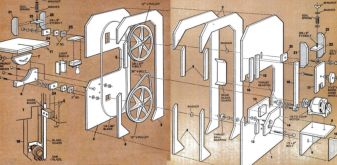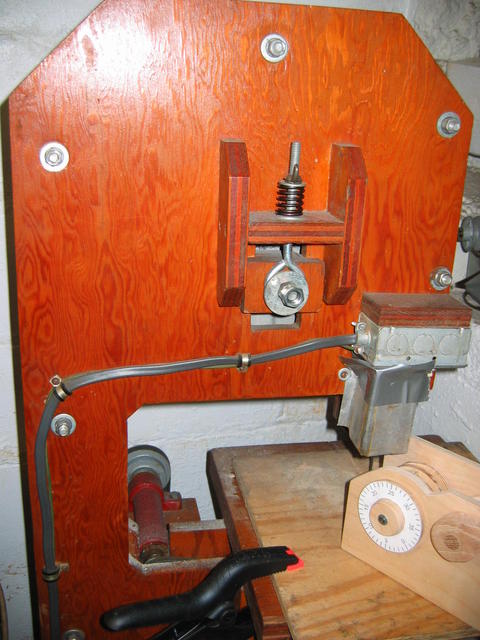 (The article is on p 155-160)
My bandsaw's claim to fame is that it was constructed from one piece of 3/4 inch plywood, except the 4 - 2x2 legs of the stand. Its seven layers are laminated with wood glue and a million screws. That was before drywall screws were readily available, as I remember screwing the slotted screws in by hand and with an old fashioned Yankee ratcheting screw driver.
I modified the plans slightly by inserting a jack shaft where the motor was supposed to go and mounting a 1/4 hp washing machine motor hanging from a hinged support down in the stand. I now have multi-speed capability, but never use it. The machine is underpowered, but would probably destroy itself if I substituted a larger motor. I also added a light. The two 12-inch pulleys were salvaged from an old dryer. The blade rides on the motor/powered drive belt on the lower pulley, while the upper pulley's groove contains a "tire" made of a cut and trimmed-to-length v-belt which has been glued into place with silicone caulk. I also did not glue the front panel on, to make blade changing easier. I set 9 - 3/8 inch carriage bolts around the periphery of the next-to-last layer and bolted on the front panel.
As always, I look forward to your next article.
Dan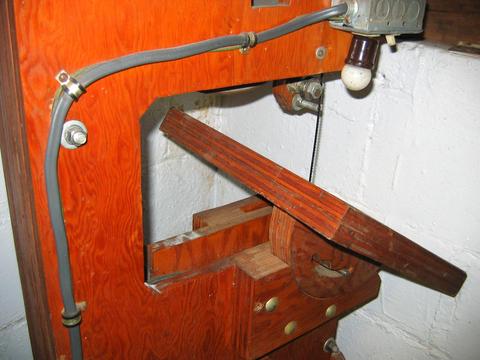 I'd like to think that wooden bandsaws have evolved a little since then, but the very simplicity of this bandsaw is something to be admired. I'm sure it goes together a lot faster than one of my bandsaws.
The Popular Mechanics article even lists a company selling a parts kit for this bandsaw, so I imagine quite a few of these were built at some point. Before cheap Asian imports flooded the market, 14" bandsaws were quite expensive in relation to income, so it made a lot of sense to build one of these. In a pinch one of these still beats not having a bandsaw at all!
See also:

more reader projects on my woodworking website.