Giorgos's bunk bed build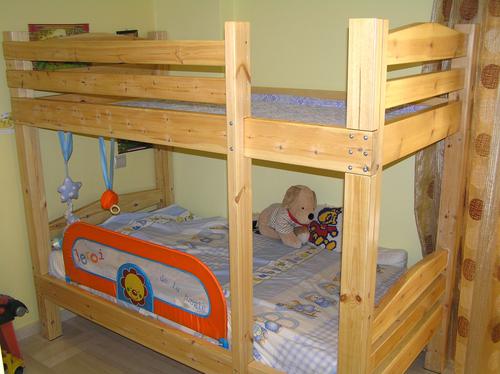 It's always nice to see when people who don't have a workshop, and aren't woodworkers, takle a project and save money. Like this bunk bed, built by Giorgos. Giorgos writes:
Dear Matthias,
My name is George Ritzakis, I am en electronics technologist from Piraeus, Greece. I have a small bedroom for my two boys and a bunk bed is the only solution for my apartment. I checked at the market and found the most cheap melamine bunk beds at the price of 680 euros. I must admit I did not like the design because I thought that the kids would not like the bed when they get 15 years old. From the other side, the wooden and steel bunk beds at IKEA do not seem so reliable.
I found your sketch up plans very helpful, enough to decide to make the bunk bed by myself, although I have never constructed anything related to wood. I ordered the lumber to my carpenter at the price of 330 euros, finished with plane. Expertise I gained from him included. Total cost at about 440 euros, which can be reduced at 350 euros, here in Greece.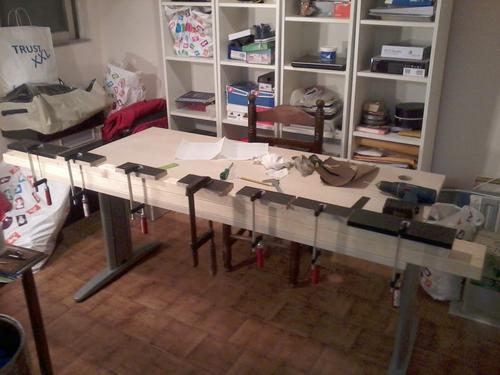 Please find attached some images from my workshop and the bunk bed at my children bedroom. Electric and basic tools are mine, you may observe a very old clamp from my grandfather, constructed before WWII. I purchased two 120cm clamps & a Bosch 80watts sander. For the connection of the bed rails with the posts I used larger screws, 80mm and 6mm wide with rounded head. Six at each point. I also put four screws to connect the two balks which consist of each post, then I filled with strong, two materials putty. You may look at them at the last photo.
Ladder is not ready for safety reasons, the older boy is 3 y.o. and will sleep above when he gets 7.
Thank you very much Matthias, this is a beautiful, reliable and totally appropriate bed for my children !