Chris Pinney's heavy duty mobile base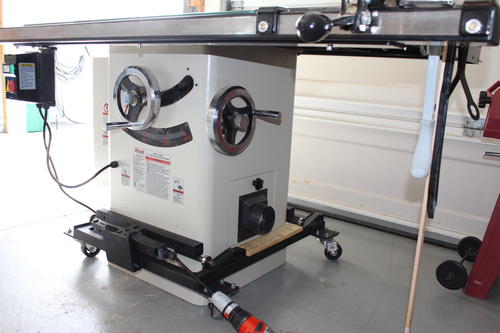 Chris Pinney writes:
Matthias
I just wanted to send you a couple of pictures of my new table saw base. It is similar to the base on your website. I replaced my old second hand saw last year with a Grizzly 0690 that weighs over 700 lb.
I found store-bought bases to be rickety and awkward to move. I also wanted the cabinet to stand on its own base to avoid wobbling. After designing a base with parallelogram style vertical hinges (like a glider style rocking chair), I started to think about 4-corner incline-type designs. During my search I came across the photos of your base — it was just what the doctor ordered.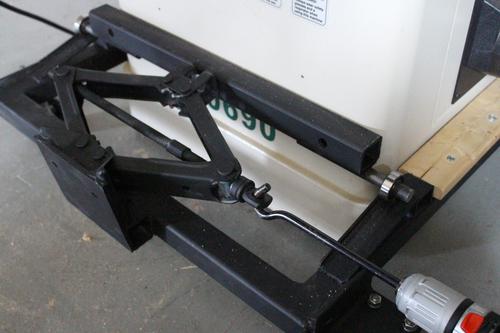 I had recently bought a second hand MIG welder on Craigslist, so I figured: why not make it out of square steel tubing. I altered the drive mechanism because of the weight and because the shape of my saw made it awkward to place a lever as you did. Instead, I used a 5 dollar scissor jack obtained at a junk yard and welded it on at an angle equal to those of the 4 corner inclines. Total cost: about 40 bucks (I already had the coasters).

Anyway, keep up the great videos: Sunday morning on Woodgears is something I really look forward to. I build banjos and guitars, so the ukulele series is especially cool !
Also see Chris's cigar box banjo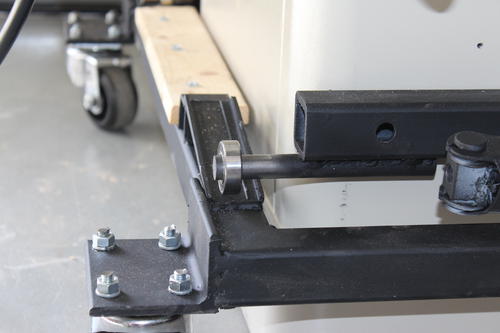 See also:
Back to my Woodworking website