Shawn Delahunty's jointer mobile base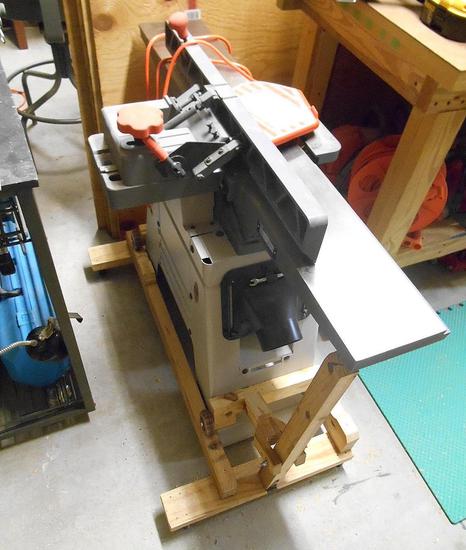 Shawn writes:
Hello Matthias,
Inspired by the lifting-mechanism you devised for your old table saw,
I created something similar for my jointer planer. The photos should cover all the salient details.
My biggest concerns were:
(1) Cost - I built the entire thing from scrap and salvaged "stuff" I had.
(2) Stability - I did NOT want this thing tipping over on me! The jointer weighs something like 250 lbs, and could do some serious damage.
(3) Mobility - The base actually lifts the jointer about 7/8-inch in the air, so I can roll it out of my garage and into the driveway. I need the clearance to get across the uneven threshold and my bumpy driveway.
All of the wood used is 2x4 scraps, and the wheels are from some junk inline skates I bought for $3 at a yard sale. I used 5/16-inch bolts for the wheel-axles. Everything is held together with carpenter's glue and wood screws. The casters are attached with 1-1/2 inch lag screws. I put fixed-wheel casters on the infeed side, and pivot casters on the outfeed side. This makes the jointer a little harder to maneuver, but for safety / stability I only wanted the jointer to roll along its lengthwise direction.

I've made a 10-minute video on my YouTube channel on the process of building this thing, which has more of the details.

Thanks again for the cool base design, and thank you so much for all the amazing woodworking projects and techniques you share.

Cheers,
-Shawn