Emco-star 6 in 1 machine
This article also available in German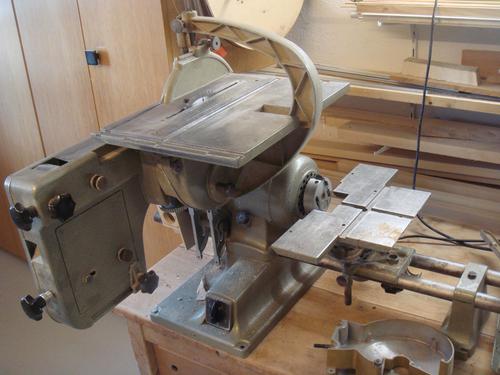 When Paul sent me pictures of his dowel making method, I noticed a peculiar combination machine in the background. I asked, and Paul took some more pictures and sent them to me.
The "Emco-star" is a combination machine that can work as a 6" bandsaw, 8" table saw, disk sander, scroll saw, jigsaw, belt sander, lathe, shaper, bench grinder and horizontal drill.
There was also an optional jointer/planer attachment, as well as a XY sliding table to use the machine as a slot mortiser. There was even an attachment for sharpening circular saw blades (this machine predates widespread use of carbide tipped circular saw blades)
It came with a 3/4 HP motor three-phase motor which could be switched between 1450 RPM and 2900 RMP operation, and could also be used as a split-phase (single phase capacitor run) motor. I assume single-phase operation was with greatly reduced power.
The main body tilts vertically for bandsawing, and horizontally for most other functions.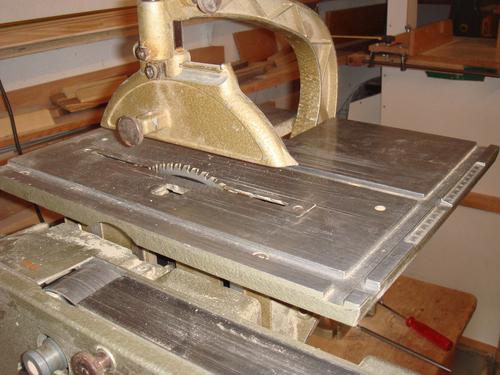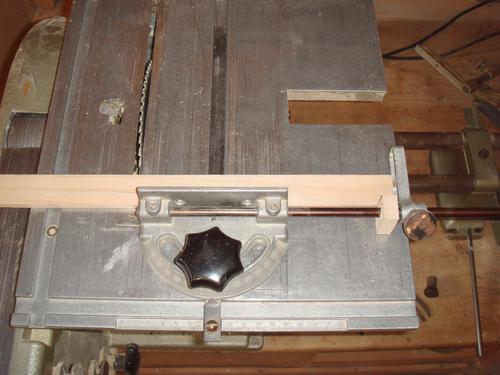 Table saw mode. The saw table is raised and lowered for different depths of cut. The table can also be tilted.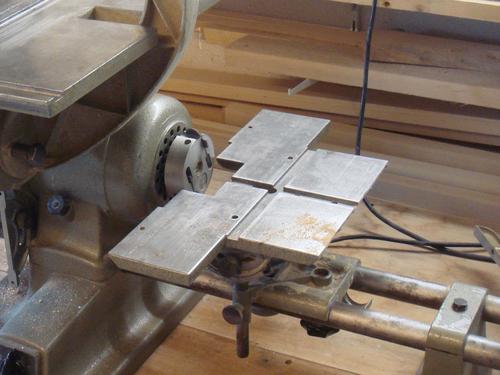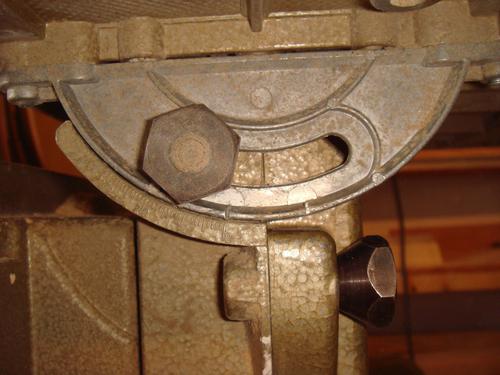 A shaper head can be mounted on the back of the motor (the lathe, bench grinder, and optional jointer / planer also attach to this side of the motor)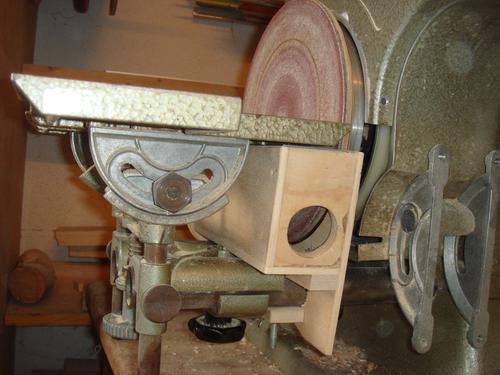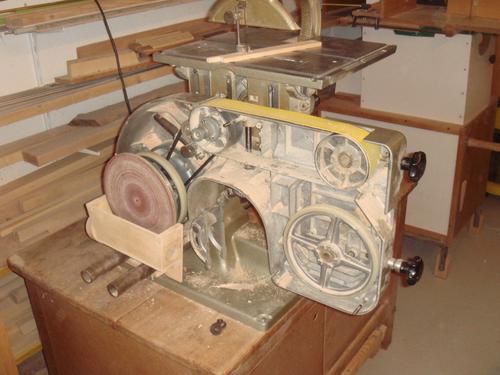 Paul added a dust shroud for the disk sander, and also made a larger sanding disk, as the original 7" sandpaper disks were no longer available.
The bandsaw, with it's tiny 6" wheels caused too much bending on the blade, causing them to break often. Paul stopped using it as a bandsaw.
Sanding belts of the appropriate size are also no longer available.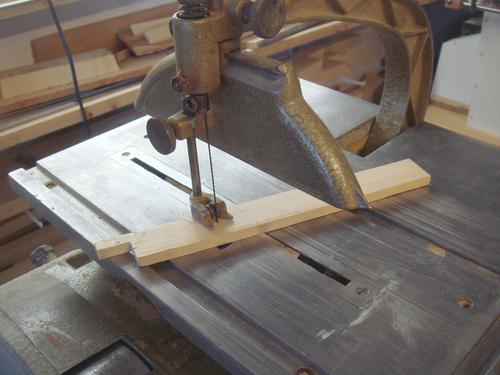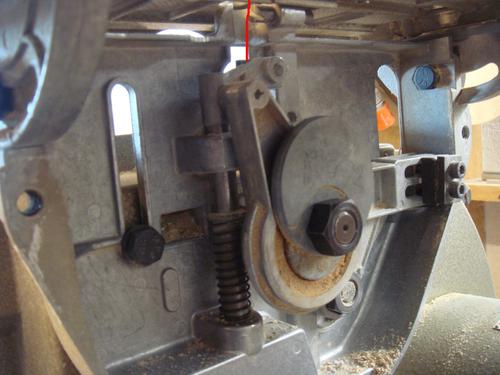 The scrollsaw function attaches where the circular saw blade normally goes. The scroll saw is a simple spring-return style scroll saw.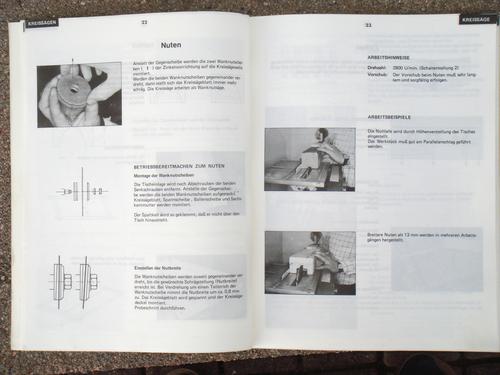 A page from the manual. The manual for this machine is still available online here
Searching for stuff on this machine online, I found it advertised in Popular Science magazine in 1965 in this Google Books result.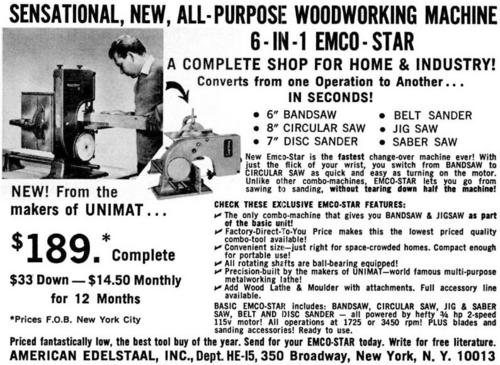 I also found a newer looking Emco-star machine advertised in 1985, so this model was presumably replaced with a newer model before then.
At times I come across other ads for odd combination machines from the 1960s. I don't think any of these were particularly safe or effective, and few of them survive today — probably for a reason.
Paul says about his machine:
I bought the machine used in 1976. Back then, there were still spare parts, saw blades, sanding belts and V-belts available. Today, you can sometimes find parts for sale online.
The machine was probably developed when electrical motors were still very expensive. With this design, several machines could be powered with one motor.
Back then, you could buy a hand-mixer for the kitchen, which could also mount a drill chuck in place of the mixer. So the man of the house could use the same device to drill holes. Today, unimaginable — in the morning the machine is used in the workshop, and when it's time to cook, the "drill" goes back in the kitchen!
I also found a few ads for people selling the machine used, and this blog entry about one of these machines.
I also came across this video of somebody demonstrating the machine.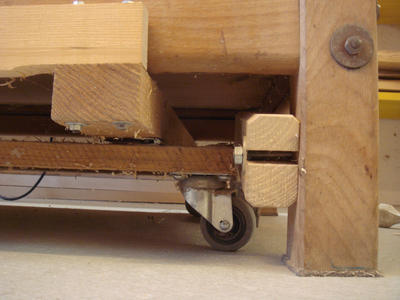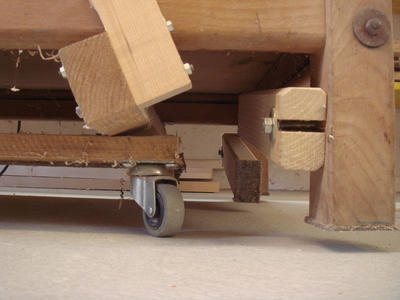 Paul also made a clever lift for the bench that he mounted this saw on.
More about the EmcoStar at the dutch website www.emcostar.nl
More of Paul's machines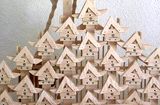 Seven amazing marble machines by Paul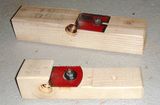 Paul's
dowel maker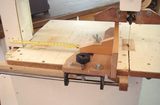 Paul's

homemade bandsaw


More about reader projects on my woodworking website.