Paul Grundbacher's Bandsaw
This article also available in German.

Paul writes:

Many years ago I built a bandsaw to cut firewood for my fireplace. I welded the frame together out of metal tubing and water pipes.
I turned the wheels from 19 mm particleboard. I also turned the holes for the ball bearings. The ball bearings are on 20 mm non-rotating axles.

The upper wheel is vertically adjusted with an 8 mm threaded rod. A spring adjusts the blade tension. This spring was previously part of a ski binding :) .

I can adjust the tracking by slightly tilting the upper wheel.
The lower wheel consists of 4 layers glued together. The V-belt runs on one of the layers. The motor has a V-belt pulley.

I originally ran the saw blade directly on the particle board. After several years I glued a strip from a bicycle inner tube onto the wheels.

Later I added the enclosure and the stand, with sawdust box.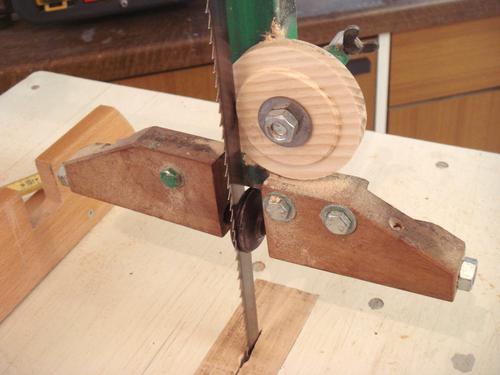 The blade guides consist of a wooden wheel to take up the thrust. It gets thinner over time, so it needs to be moved forward from time to time. But it lasts for years.

The side blade guides consist of two engine intake valves from a car.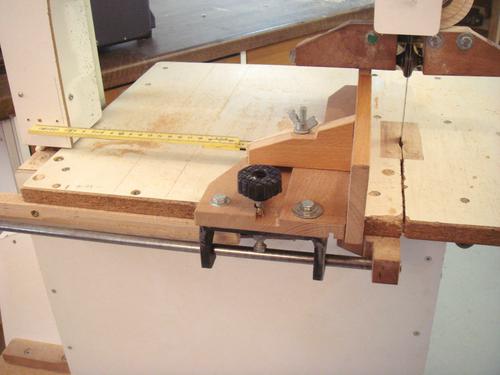 I added the rip fence last. Part of a wooden folding meter stick serves as a scale.



More unique bandsaws not based on this one




More of Paul's machines


More about reader projects on my woodworking website.