Hector Acevedo's machines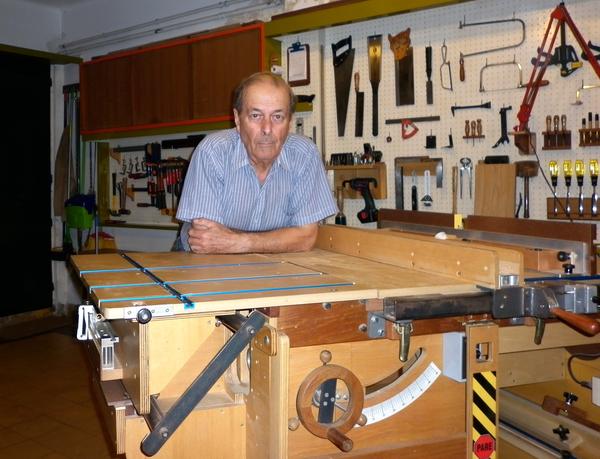 I live in Montevideo, capital city of Uruguay in South America. I'm 75 years old, a retired land surveyor.
In my country, woodworking machinery is either of the "hobby" type or high-end (and priced well out of reach for the home woodworker). The "hobby" machinery is plain inadequate and, in most cases, simply frightening in use. Too flimsy for the power packed in them, too noisy, too unstable... Scary!
Back in December 1970 I discovered Gilliom Mfg. Co. and promptly ordered plans for their Tilt Arbor Floor Saw, 12 inch Band Saw and 18 inch Band Saw. It took 24 years to find the space for a decent home workshop!
Homemade table saw
I decided to build the Tilt Arbor Floor Saw first and ordered some parts and started building in early 1996. I did not purchase the whole kit. I had mulled over those plans for so long that I decided my ambitions deserved a more sophisticated (or updated, if you will) design. I went for a totally enclosed motor and a sliding table for crosscuts.
Homemade router lift
The table saw turned into more of a workstation. A router lift is also included in the cabinet

Riving knife addition
The table saw's blade mechanism has since been extensively modified to accommodate the addition of a riving knife

Upgrade to format style sliding table
Upgrading the sliding table to a larger format-style sliding table, with outrigger extension

Homemade panel saw
A homemade panel saw, designed to fit in limited space in the garage.

Shopvac Thien-baffle separator
A Thien-baffle cyclone addition to a shopvac.

You can contact Hector Acevedo at: