Aiden's paddle board rack
Aiden writes:
Hi Matthias,
I've been a subscriber for a while and love watching your videos and reading through your site. I've always wanted to support you in some way in return (purchase plans etc.) but since moving to the city a few years ago I've lost my nicely setup shop and seldom have an opportunity to get my tools working.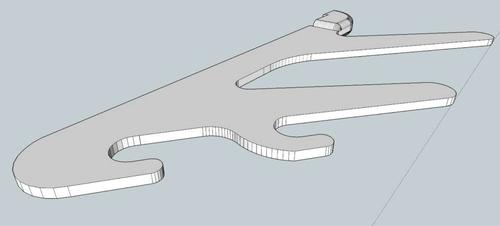 Until this weekend however - I had a small home storage problem to sort out and had just the job for BigPrint.
We have a couple of stand up paddle boards that are lots of fun, but enormous and tough to store. Looking at some commercial surfboard storage solutions, I saw a concept I liked but a price I didn't (plus I couldn't wait for delivery). So I spent a night downloading SketchUp, learning to use it and designing the project.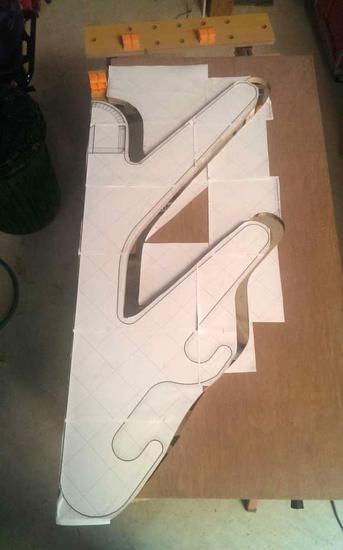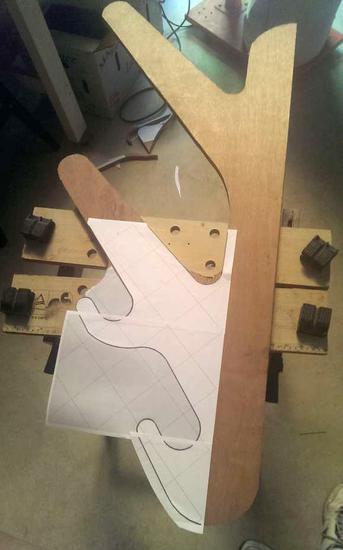 The next step involved getting that shape onto the workpiece. I have no idea whether SketchUp can print in tiles, but I remembered how well BigPrint was suited to the task so I headed over to woodgears.ca :) Not long after I had nicely scaled tiles printed, glued onto some marine plywood and roughed out with the jigsaw.
Then it was off to the bandsaw for the final 'neat cut'. The problem with a bandsaw of course is the limited throat, especially with a big piece like this. BigPrint let me print out a mirror image template to the same scale. This allowed me to flip the job over and get the remaining cuts done.

Matthias comments:
SketchUp can print tiles, but it kind of sucks at it. Also BigPrint itself doesn't flip the image (Aiden fliped it before loading into BigPrint)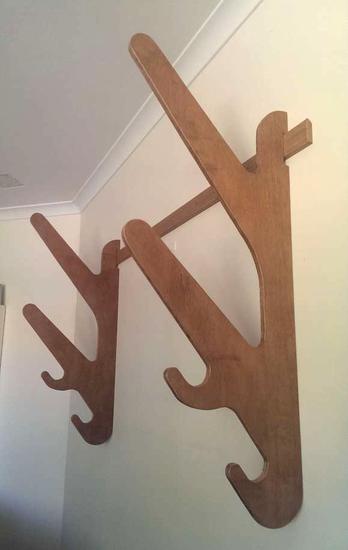 I then used the first piece as a template for marking out and cutting the second, and then sanded the edges as a pair. After a coat of satin varnish they were ready for a test fit. These simply hang from a rail french cleat style.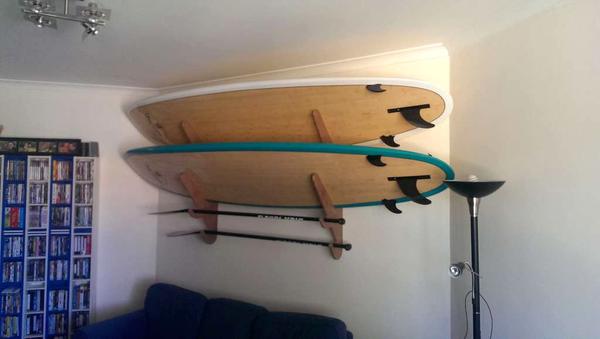 Finally, it was time to put the boards and paddles in their new home :)
So thanks again for a great & affordable piece of software that really helped with this project. I can see that it's going to be useful for so many more. Thanks also for all your fascinating content, I hope you enjoy making it as much as I enjoy watching!
I'm looking forward to getting my new shop a little better organised and tackling some more projects, maybe a pantorouter next......
Cheers,
Aidan - Perth, Western Australia.
See also:
To my Woodworking website